Automobiles
Kobelco's PVD coating technology is seeing greater applications in the automobile industry due to tightening environmental regulations on exhaust gas and fuel consumption. There is a strong need for parts to have a long service life, especially engine parts that are required to be used in high-pressure conditions, and there are growing opportunities to apply the technology to parts that had not previously been coated.
Although not always visible to the eye, our deposition technology is constantly used for automobile parts from passenger cars to race cars, and the range of application continues to grow.
Main Applications
Engine Parts (Fuel Injection Parts, Etc.)
Engine parts require an extremely high level of wear resistance. To achieve this high level of wear resistance, a film with both lubricity (low surface roughness) and adhesion (resistance to peeling) is required.
Kobelco provides solutions that combine excellent lubricity and adhesion where the film does not peel even in rigorous environments.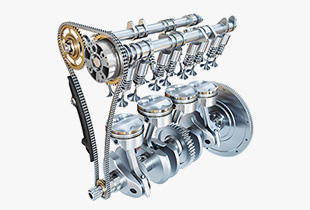 Main Application Parts
1 Injection nozzle, 2 Shim, 3 Swing arm, 4 Piston pin, etc.
Test Data on Adhesion
In tests of DLC film (structure with chromium-tungsten composite middle layer) for automobile parts, the high-hardness substrate had an adhesion with a critical load of 100 N or more. No peeling occurred in HRC indentation testing even with low-hardness substrates.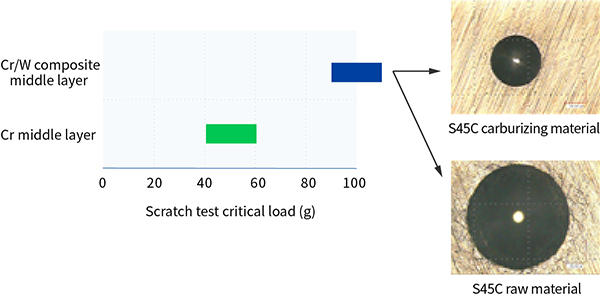 Kobelco Technology
Kobelco's DLC film has a middle layer structure (combining the strengths of two types of middle layers) for extremely high adhesion.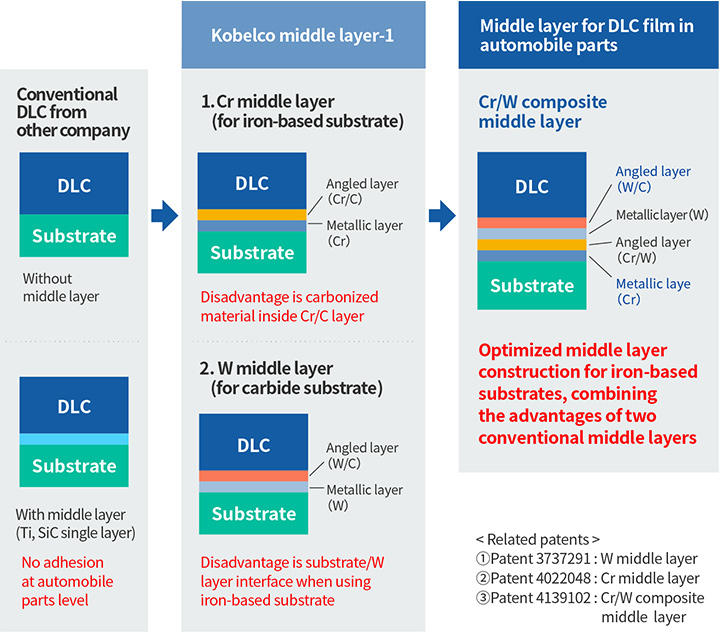 Recommended Film and Equipment
Film
Equipment
Engine Parts (Piston Rings)
Kobelco has been coating piston rings for many years and has cultivated various technologies and know-how starting with the development of equipment. In recent years, we are seeing a greater demand for coating not only the top ring but also the second ring and improved lubricity. Kobelco provides optimal solutions according to the growing needs of our customers.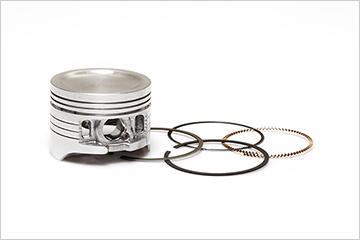 Main Application Parts
1 Piston rings (top ring, second ring)
Kobelco Technology
We have succeeded in improving the durability in rigorous environments by using a thick film. A thick film can be created not only with conventional chromium nitride film but also DLC film.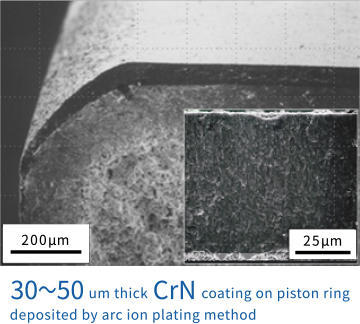 Recommended Film and Equipment
Film
Equipment
Dies
As automobiles become lighter to improve fuel efficiency, there are growing cases of using high tensile material (high tensile steel) as the frame members of car bodies. High tensile material is extremely hard steel material that is very difficult to machine due to the strong force (spring back) that tries to return the material to its original form after applying force.
Kobelco coats the surfaces of dies for high tensile material with a PVD coating to minimize damage to the die and improve machining efficiency. In addition to dies for high tensile material, surface treatment is also performed on molds for injection molding and molds for forming tire grooves, thereby meeting various demands such as improving wear resistance and releasability.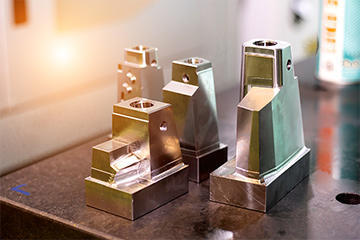 Main Application Parts
1 Dies for high tensile material forming, 2 Molds for injection molding, 3 Molds for tire groove molding
Recommended Film and Equipment
Film
Equipment