UBMS® Series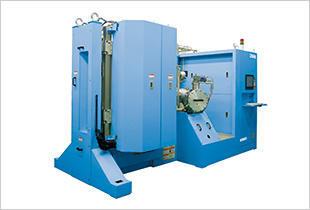 The Unbalanced Magnetron Sputtering System (UBMS®) Series is mainly used by customers in various industries including parts, tools, dies, and molds as diamond-like carbon (DLC) film coating system.
The properties of DLC film can easily change depending on the deposition method and processing temperature, but we have solved this problem using our many years of experience and knowledge. We can also provide solutions for adhesion of DLC film, which has long been an issue.
Equipment Features
Equipped with Kobelco's own sputtering evaporation source
The UBMS® Series is sputtering equipment equipped with an evaporation source developed in-house by Kobelco. The magnetic field configuration is optimized to strengthen plasma at deposition and improve the ion assist effect, which is effective for film quality control. As a result, film with good surface roughness can be achieved.
Details of evaporation sources
PE-CVD method is used to enable DLC coating
It is possible to form a film to improve adhesion by sputtering, and processing can also be performed using the PE-CVD method for deposition of DLC.
* PE-CVD method: Coating technology that uses gas as the deposition material. Methane and acetylene are mainly used for deposition of DLC film. The PE-CVD method enables deposition five or more times faster than the UBMS® method, thereby improving productivity, which is a problem of the UBMS® method, while maintaining the sliding properties.
Compatible with CE, UL, and customer safety standards
Specifications can be customized to meet international safety standards. We can also tailor the specifications to meet your needs for safety standards developed in-house.
Basic Equipment Specifications
Minimum space for installation
4 m × 3.5 m
5 m × 6 m
6 m × 7 m
Effective coating area
ø200 mm
× H 120 mm
ø450 mm
× H 400 mm
ø700 mm
× H 800 mm
Number of evaporation sources
2 surfaces
4 surfaces
7 surfaces
Substrate table
ø90 × 3 axes, Rotation/revolution
ø130 × 6 axes, Rotation/revolution
ø130 × 12 axes, Rotation/revolution
Max loading weight of substrates
Max. 20 kg
Max. 180 kg
Max. 360 kg
Typical application
R&D
Medium-scale production
Automobile parts mass production
Large-scale production
Automobile parts mass production