AIPocket™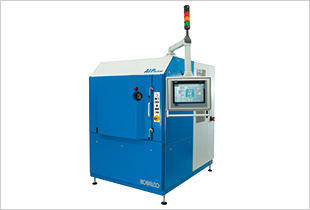 AIPocket™ is a general-purpose model developed to enable more customers to use AIP® deposition equipment.
It is equipped with our latest arc evaporation source, SFC, and the latest etching system, FAPE™-S, for high-performance coating. In addition, the design takes into consideration replacement of the target (film material) for rapid changing of the film type. Furthermore, by optimizing the vacuum exhaust system, a cycle time of 3 hours (in-house standard conditions) per batch is achieved. High productivity can be realized for low-volume, high-mix production.
We have a track record of delivering many units to tool manufacturers and contract manufacturers who handle low-volume, high-mix processing, and many customers who produce coatings in-house select this equipment as their first unit.
Equipment Features
Using the latest evaporation source as standard equipment
Kobelco's latest evaporation source, Super Fine Cathode (SFC), is used as standard equipment. It allows formation of a thick film with good surface roughness and high-end film performance.
Details of evaporation sources
Optimal equipment specifications for low-volume, high-mix production
The size of the processing furnace (chamber) has been decreased, thereby reducing the processing time. The film material can be easily replaced, making it perfect for low-volume, high-mix production.
Reasonably priced and quick delivery
Since AIPocket™ is a general-purpose model, it has a more reasonable price point than other products. In addition, we always have several units in stock and can deliver them with a relatively short turnaround time.
Basic Equipment Specifications
Size
Equipment size
1.4 × 1.9 × 2.2m
Effective coating area
ø360 mm × H 300 mm
Equipment weight
2.2 t
Productivity
Installed quantity / ø6 × H 70mm (axis object assumed)
288 pcs. / 1 batch
Typical cycle time
3 hours / 1 batch
Arc evaporation source
Super Fine Cathode (SFC)
4 sources (2 sources×2 surfaces)
Substrate table
Number of table axes
ø130 mm × 4 axes
Max. installation weight
160kg
Preprocessing method
New gas etching, metal bombardment
Process gas system
3 systems
Supported standards
CE marking
Notes
1) This is an international model with 400 V specifications.
  Provide a transformer when using in Japan.
2) This general-purpose model cannot be customized.