AIP®-S Series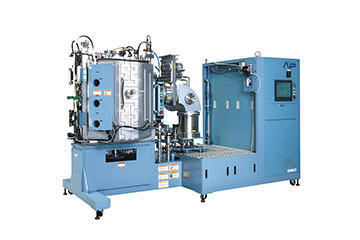 The AIP®-S Series has been a longtime favorite of our customers for over 20 years since its release.
By simplifying the basic design of the equipment, we have been able to greatly reduce the risk of problems, and the maintenance workload has also been reduced by exposing important equipment and components. Many customers purchase additional AIP®-S Series equipment due to its high reliability.
We have sold over 300 systems to date. This series is used in a wide variety of industries including tool manufacturing. We offer three types of equipment for R&D, medium-scale production, and large-scale production. Choose the type to best suit your application.
Equipment Features
Equipment can be customized to your needs
We can change various specifications such as the type and quantity of evaporation source, deposition distribution, and deposition rate to suit the required film performance. We will customize the system according to your budget.
Details of evaporation sources
Compatible with CE, UL, and customer safety standards
Specifications can be customized to meet international safety standards. We can also tailor the specifications to meet your needs for safety standards developed in-house.
Equipment layout is flexible to accommodate the installation environment
The equipment is flexible so it can be used in any conditions, such as when installing a power supply, pump, or other additional equipment externally even when the installation location has limited space.
Design construction that gives maximum consideration to maintenance
The power supply unit and pump are not covered with panels, dramatically improving the ability to maintain the important parts. In addition, both sides are equipped with opening chamber doors to help reduce maintenance time between batches.
Basic Equipment Specifications
Minimum space for installation
5 m × 2 m
6 m × 6 m
7 m × 7 m
Effective coating area
ø220 mm × H 120 mm
ø450 mm × H 500 mm
ø700 mm × H 700 mm
Number of evaporation sources
2 sources
(Up to 1 source × 3 surfaces can be added)
3 sources × 2 surfaces
(Up to 3 sources × 4 surfaces can be added)
4 sources × 2 surfaces
(Up to 4 sources × 4 surfaces can be added)
Substrate table
ø90 × 3 axes
ø130 × 6 axes, Rotation/revolution
ø130 × 12 axes, Rotation/revolution
Max loading weight of substrates
Max. 15 kg
Max. 180 kg
Max. 360 kg
Typical application
R&D
Medium-scale production
Tools,automobile parts, dies and molds (medium-scale)
Large-scale production
Tools,automobile parts, dies and molds (large-scale)