SS (Titanium Aluminum Nitride Multilayer)
SS film is a film with a titanium aluminum nitride (TiAlN) base and is mainly used for surface treatment of dies and molds.
Although a high temperature diffusion treatment method using vanadium carbide (VC) is commonly used for surface treatment film, the treatment temperature of 900°C to 1000°C is high, which can strain the dies and molds. Kobelco's arc ion plating (AIP®) method uses a lower treatment temperature of between 400°C and 500°C, thereby allowing surface treatment free of thermal strain.
In addition, using the AIP® method to combine two types of film with different functions results in high adhesion and oxidation resistance. It also allows withstanding high surface pressures.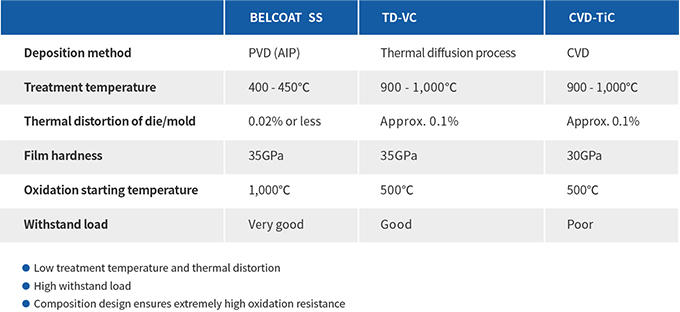 Film construction
Topcoat: Film with excellent oxidation resistance (element added to the TiAlN film developed for use on tools)
Middle layer: High-adhesion film (using a film that is highly compatible with iron-based substrates)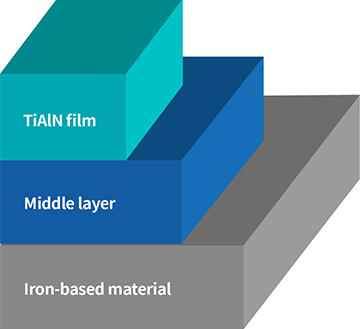 Recommended Applications
• Press dies
• Die cast molds
• Casting molds
• Forging dies
Application Examples
High-Durability Surface Treatment of Dies for High Tensile Steel Plate Forming
High tensile steel plates are used in automotive frame parts and suspension parts, and the forming of these steel plates uses the cold press method (forming room temperature material by hydraulic or mechanical press).
While the cold press method has a short cycle time and excellent mass productivity, the large load during forming reduces the service life of the die.
As a solution to this issue, SS film has a thick, dual layer construction. It reduces damage to the die and ensures a long service life.
* It can also be applied to forging dies, casting molds, and die cast molds.