Achieving the ultimate functionality with advanced technology.
Kobelco surface treatment solutions
Kobelco's PVD surface treatment technology deposits film at the atomic and molecular level, enabling extremely precise film formation.
This film formation technology is a unique technique that cannot be realized with other surface treatment technology such as spraying or wet plating.
The main fields for applying spraying technology include surface treatment for large members, high-speed deposition, and thick film deposition. In contrast to this, deposition technology based on PVD can be applied to applications requiring detail in optical and electronic functional film such as protective film for tools and automobile parts.
In addition, because PVD technology does not use chemicals as in wet plating, it is environmentally friendly.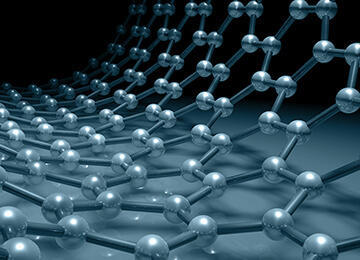 Fine control at the atomic level
Scope of Application of PVD Coating
At Kobelco, we provide high-end solutions for the following points through sales of our PVD coating system.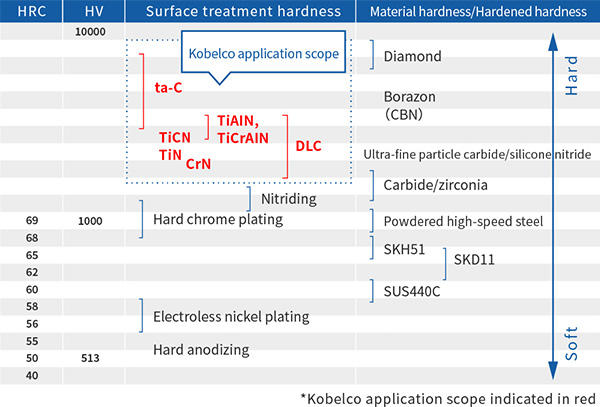 Hardness Solutions
PVD coating is extremely hard and enables the formation of a film with a hardness similar to that of a diamond. PVD coating with a high hardness is used for machining film such as Inconel, a very hard material used in aircraft fuselages.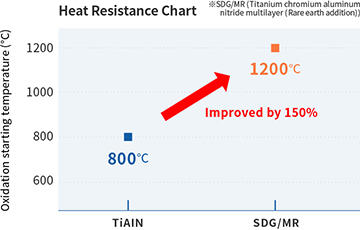 Heat Resistance Solutions
Tool cutting in a dry environment can significantly increase the temperature of the tool and cuttings upward of 1200°C. PVD coating has excellent heat resistance even in severe high temperature environments.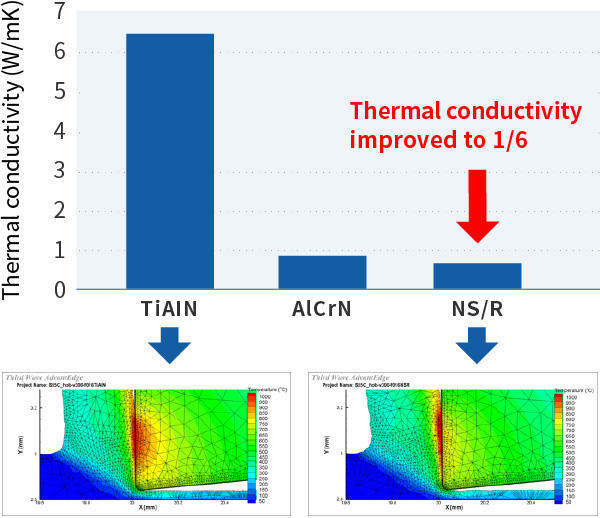 Reduced Thermal Conductivity Solutions
PVD coating can help reduce thermal conductivity to 1 W/mK or lower. So far, it has been applied to hobs for processing gears.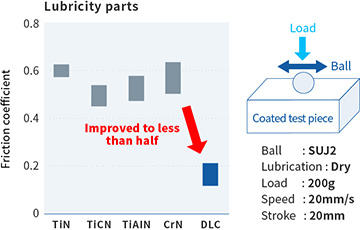 Lubricity Solutions
Kobelco's UBMS® equipment enables formation of film with a coefficient of friction of 0.2 or less. Adding lubricity to parts used in very rigorous environments such as rocker arms for race cars can increase durability of the part.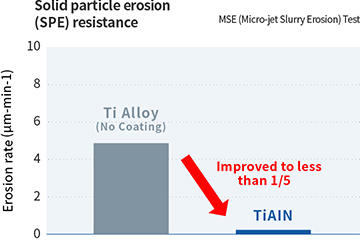 Erosion Resistance Solutions
PVD coating is used in cases where solid particle erosion occurs, such as in thermal power generation turbines. In erosion-resistance tests, uncoated parts can be seen eroding at 5 μm/min whereas PVD coated parts erode at only 0.5 μm/min or less.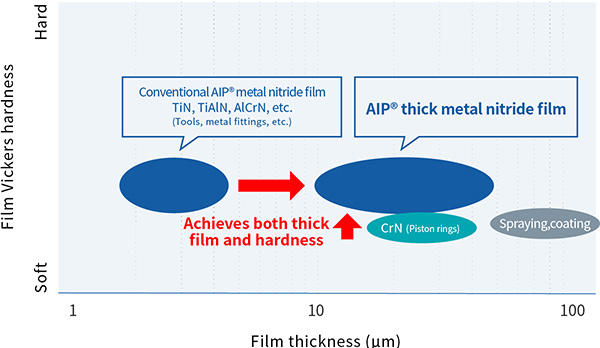 Thick Film Solutions
Because conventional PVD created hard film, it had high compressive stress and the film could not be made thicker. In response to this, Kobelco developed an SFC evaporation source that controls the compressive stress and enables a thick film of 30 μm or more even for high-hardness films such as titanium aluminum nitride. In addition, a thickness of 30 to 50 μm can be achieved by using chromium nitride, which has low compressive stress and is softer than titanium aluminum nitride coating.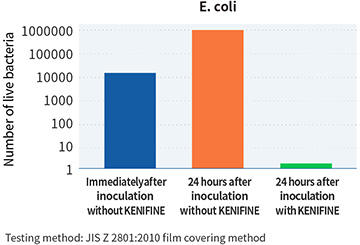 Antibacterial Solutions
As a new application technology for KENIFINE, a transparent KENIFINE film technology with antibacterial properties was developed.
Roll-to-roll sputtering deposition technology is used to form an ultra-thin film of KENIFINE on the surface of film objects, such as plastic film, paper sheets, flexible glass, cloth fiber, and metal foil, to provide transparency and antibacterial properties, enabling a wider range of use.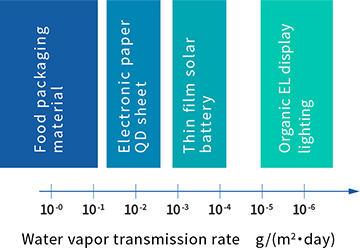 Gas Barrier Solutions
CVD coating is used as a gas barrier film (to prevent penetration of oxygen and water vapor) in solar batteries and flat panel displays. The application range has a water vapor transmission rate of 10-1 to 10-5 g/(m2∙day).
Flow to Equipment Installation
From inquiry to after-sales service, our specialized staff (sales, process engineers, mechanical design, control design, and service engineers) work together to ensure optimal support to solve all your problems.
We also work together with Kobelco Research Institute, a group company that specializes in analysis. We provide optimal solutions using cutting-edge equipment and technology.
Discussion
A process engineer discusses your concerns with you and provides information on how our equipment can address your concerns.
Sample Test
We coat your base material and have you check the effect and usability of the coating.
Equipment Design
Our mechanical and electrical control engineers design and propose the optimal equipment specifications to meet your individual needs.
Equipment Installation
At your processing and manufacturing base, our manufacturing team provides everything from equipment installation to explanations of how to use the equipment.
After-sales Support
Our service engineers provide quick support for equipment and devices that require troubleshooting.