AIP®-G Series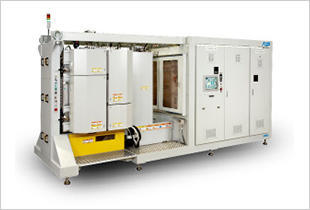 The AIP®-G Series is large equipment developed for mass production of automobile parts.
It is standard equipped with the latest evaporation source and features high productivity and high film thickness distribution. This model is mainly used by parts manufacturers, and nearly 20 units have been sold inside and outside Japan since it was launched in 2014.
Equipment Features
Using the latest evaporation source as standard equipment
Kobelco's latest evaporation source, Super Fine Cathode (SFC), is used as standard equipment. It allows formation of a thick film with good surface roughness and high-end film performance.
Details of evaporation sources
High deposition rate and high deposition distribution
The flexible equipment design can meet your needs with customized specifications according to international safety standards and customers' safety standards and a layout that can be adjusted to suit your minimum space for installation.
Flexible equipment design
Specifications can be customized to meet international safety standards. We can also tailor the specifications to meet your needs for safety standards developed in-house.
Basic Equipment Specifications
AIP-G60R
AIP-G70R
Minimum space for installation
6 m × 4 m
7 m × 5 m
Effective coating area
ø730 mm × H 600 mm
ø730 mm × H 700 mm
Number of evaporation sources
8 surfaces
12 surfaces
Substrate table
ø90 × 18 axes, Rotation/revolution
ø95 × 18 axes, Rotation/revolution
Max loading weight of substrates
Approx. 300 kg
Approx. 300 kg
Typical application
Automobile parts
Medium-scale production
Automobile parts
Power supply
400 V class
200 V class