Does not wear. Does not come off. Does not deteriorate.
Realizing ultimate strength at the atomic and molecular levels.
Physical vapor deposition (PVD) coating is a surface treatment technology that forms a film at the atomic and molecular levels that has high durability, low wear, and long service life.
PVD Coating Process
Installing the Object (Workpiece) to Be Coated
Use a jig to install the object (workpiece) to be coated on the substrate table.
Care must be taken not to obstruct other workpieces or allow it to fall during processing.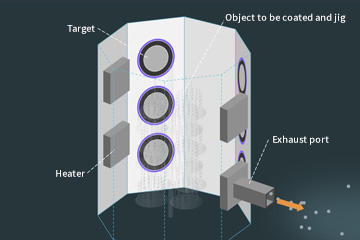 Vacuum Processing
The inside of the process furnace (chamber) is vacuumexhausted to the level (base pressure) where the coating is not affected. If more air than allowed remains in the furnace, an oxide film forms on the surface of the workpiece during the subsequent heating process, which can lead to poor adhesion.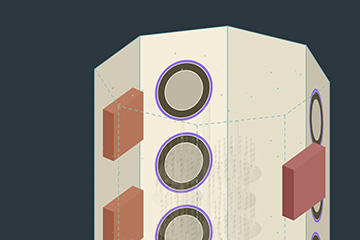 Heating
Impurities (mainly water) adhering to the surface of the workpiece are evaporated.
Even a small amount of water can lead to poor adhesion, so the furnace temperature is properly controlled, and all workpieces are thoroughly heated.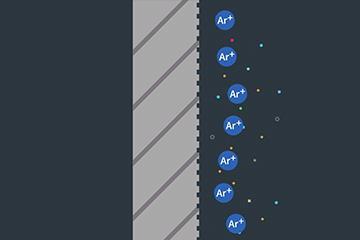 Etching
The surface of the workpiece is impacted with argon ions, removing impurities (mainly oxide film).
Kobelco equipment achieves the ideal etching effect and excellent film adhesion by producing strong argon gas plasma and uniformly controlling it.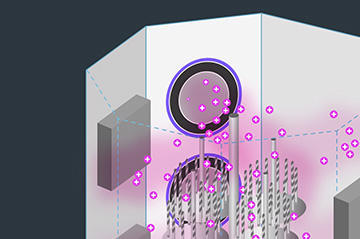 Coating
An arc discharge is performed between the metal material for coating and the process furnace (chamber), vaporizing the metal material into a plasma state and ionizing the elements that form the film. Next, by applying a negative voltage to the workpiece, the ionized elements impact it at high speed, forming a film.
Depending on the type of metal material used and processing conditions, it is possible to achieve various film properties including wear and heat resistance. In addition, multiple metal materials can be used to form a multiple element alloy film or laminated film. Deposition with added gas elements such as carbon is possible by changing the type and amount of gas injected into the process furnace.
Cooling and Venting
Nitrogen or helium can be injected into the process furnace to promote cooling.
Because discoloration (adhesion of temper color) can occur depending on the type of object (workpiece) being coated, consideration must be given to when air is injected.