Energy Infrastructure
We have built enriched lives by developing high-level infrastructure for production, logistics, and communication, driven by large amounts of energy including fossil fuels. However, this rapid development has come with numerous sacrifices of the global environmental conservation, and it has created various problems such as global warming.
In response to this, sustainable development that is environmentally friendly has become an important theme worldwide, and in the energy infrastructure industry, there is a shift toward more durable parts and parts with lower energy loss and maintenance costs as part of the movement to reduce mass consumption.
Kobelco is proactively entering the energy infrastructure field by using PVD coating technology cultivated for automobile and aircraft engine parts. Using the application of PVD coating in thermal power plant turbines as a foothold, we are steadily expanding the range of application to contribute to the reduction of mass consumption that is being faced by the energy infrastructure industry.
Main Applications
Turbines
With the spread of renewable energy, thermal power plants now start and stop more frequently. (They frequently turn on and off depending on the amount of renewable energy supplied and the change in power demand.)
Power plants starting and stopping can lead to peeling of oxides (scale) inside heat transfer tubes which can then fly off at high speed, damaging steam turbines and other parts (due to solid particle erosion).
To solve this issue, Kobelco provides a solution of coating the moving wings of steam turbines with AIP® thick metal nitride film (titanium aluminum nitride film). This greatly improves erosion resistance (and durability) to ensure a safe, stable power supply.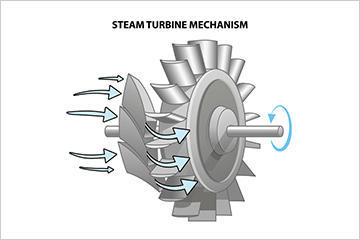 Recommended Film and Equipment
Film
Equipment