VS/MR (Aluminum Titanium Multilayer)
VS/MR film is a nanolayered film of aluminum titanium (AlTi) and titanium silicon (TiSi) with excellent defect resistance, high hardness, and wear resistance.
Although this film was developed to coat drills, recently it has been increasingly used for inserts and endmills as well.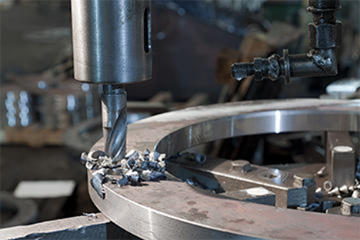 Recommended Applications
• Carbide drills
• Carbide endmills
• Turning inserts
• Milling inserts
• CBN inserts
Application Examples
Conventionally, low-cost high-speed steel tools have been commonly used as cutting tools. However, in recent years, the hardness of materials and machining precision have advanced, and in response to this, the use of carbide tools with a carbide alloy base material is increasing.
While carbide tools are superior to high-speed steel tools in terms of high-speed cutting, machining precision, and smooth finished surfaces, the high hardness makes the tools prone to chipping. Kobelco's VS/MR film was developed as a solution to these issues, and the nanolayered film combines AlTi and TiSi for high defect resistance. In addition, it offers superior performance in terms of oxidation resistance and high hardness.
Drills
This shows the comparison of results when carbide drills were coated with VS/MR film and used to machine alloy steel (SCM440). The service life was improved over other films, and a drill count of over 3000 was achieved.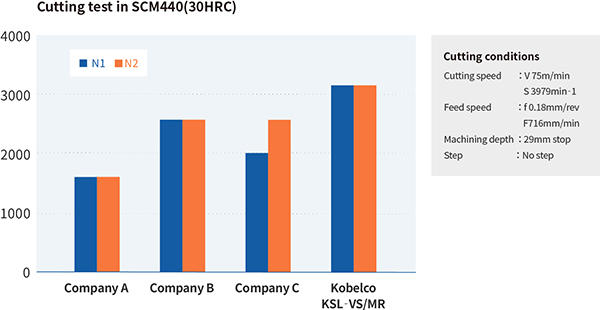 Inserts
In machining tests where a milling insert was used to cut 40Cr material, the film had a strong performance.