ta-C
Tetrahedral amorphous carbon (ta-C) film is also called hydrogen-free DLC film. Since it is free of hydrogen, it is possible to perform DLC deposition with ultra high hardness, and therefore, it is used for aluminum cutting tools and automobile parts.
Friction coefficient comparison
Compared to nitride film (CrN, TiAlN, TiCN, TiN), DLC film has a lower coefficient of friction at 0.2 or lower.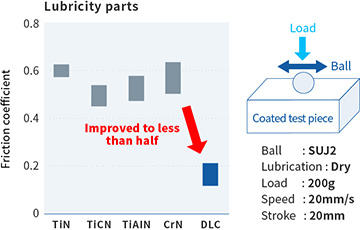 Forming DLC Film
There are three methods of forming DLC film: Unbalanced Magnetron Sputtering (UBMS®), arc ion plating (AIP®), and CVD; ta-C film is formed using AIP®.
AIP®
This method enables the formation of film in the ta-C region and creates hydrogen-free film.
This method has a higher ionization rate than UBMS®, thereby enabling the formation of film with diamond-like hardness.
Since it has a heat resistance of about 600°C, AIP® can be used to form film with a higher oxidation resistance than UBMS® or CVD.
CVD
This method enables film formation five or more times faster than AIP® or UBMS®.
Since hydrocarbons such as methane and acetylene are required, hydrogen-free film cannot be formed.
UBMS®
While this method enables the formation of a smooth surface, the ionization rate is lower, and the deposition rate is very slow.

Recommended Applications
• Carbide endmills
• Turning inserts
• Milling inserts
• Automobile parts, etc.
Application Examples
Piston Rings
Nearly half of the friction loss in the entire engine occurs in the area around the piston, and reducing the friction of the piston rings is a very important issue for improving fuel efficiency. ta-C film is used as a solution to this issue, as it can reduce friction loss and improve fuel efficiency.
* Since DLC film generated using sputtering or CVD contains hydrogen, the friction reducing effect is lowered under lubrication of gasoline engine oil. Since ta-C film generated using AIP® does not contain hydrogen, it has an excellent friction reducing effect even under lubrication.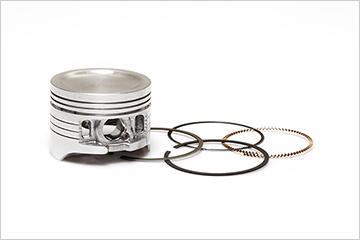 Cutting Tools
As automobiles become lighter in weight, aluminum is used more often as a material in car bodies and other parts.
However, when cutting non-ferrous metals such as aluminum and copper, the material may adhere to the blade edge of the cutting tool, creating cutting resistance and breaking the blade edge. To solve these problems, ta-C film with a low coefficient of friction and high hardness is used.